If you've decided to visit Islay in the near future or when you're already making holiday plans for Islay I recommend you to keep on reading our Islay holiday FAQ and checklist. This article is written based on frequently asked questions I have received in recent years. It will help you to prepare your journey properly and to make the best of your time on the island.
So when is a good time to visit Islay?
That depends on various things and most of all the reason of your stay. Some folk are only interested in visiting distilleries so for them any time is good as long as the distilleries are open. Others come to Islay to watch the Barnacle Geese, for them October to April is better. With children you probably aim for the school holidays and a time when the weather permits for "outdoor activities" (roughly March until October). For the Whisky Festival week you'll need to be here in the last week of May. If you want to include or join one of the annual events make sure to check the annual events page on Islay Info first.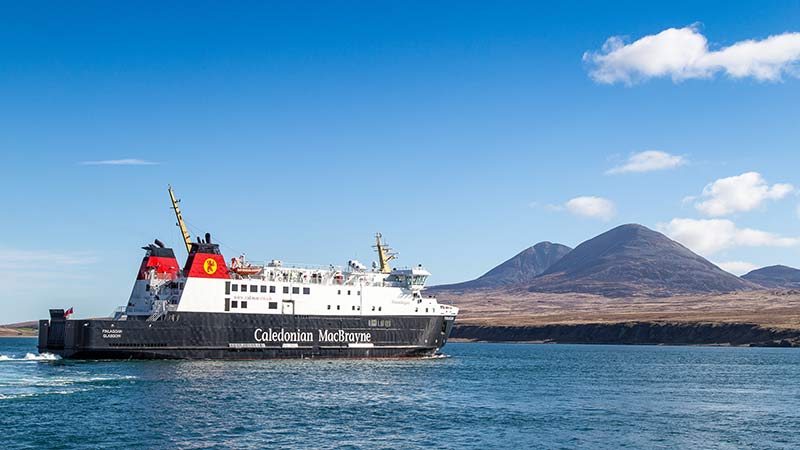 When is the Tourist Season on Islay?
The tourist season roughly starts around Easter time and ends in October although the season does tend to get longer as people realise that holidays outside the season can be just as nice, and accommodation is often cheaper. The busiest period on Islay is without a doubt the last week in May during the whisky festival. This is also the week which needs to be planned well in advance as accommodations are usually fully booked!
How will the weather be when I visit Islay?
As far as the weather is concerned, based on averages, the months of April, May and June are usually the sunniest, July and August the warmest and November to February are the wettest. This being said, please note that the weather can change rapidly and does so frequently.
How to travel to Islay
Most folk who visit Islay come to the island in by car which makes sense when you live in the UK or on the continent. We often see cars on the island from as far as Italy, Germany, Austria, Switzerland, France, Belgium and the Netherlands. There are plenty of ferry crossings between the continent and the UK. For more info check our Scotland Travel Guide.
By Car
If you're coming over by car you'll have to drive to Kennacraig first, which is roughly a three hour drive from Glasgow if you travel along Loch Lomond and over the Rest and be Thankful pass. There are a few other options to get to Kennacraig from Glasgow. You can take the ferry from Gourock and drive over the Cowal Peninsula or you can take the ferry at Ardrossan and travel to Islay via the Isle of Arran.
By Bus
Another option is to take the bus from Glasgow Buchanan bus station to Kennacraig and travel on the ferry as foot passenger. Make sure to check if there is transportation when you arrive in Port Ellen or Port Askaig as there is no bus service in the evenings and on Sundays.
Islay Airport
Islay has an airport at Glenegedale with daily direct flights to and from Glasgow International Airport. For info on times, airport parking, booking your flights etc visit the Islay Airport info page on Islay Info.
Should I take the Ferry to Port Askaig or Port Ellen?
Whether you should take the ferry to Port Ellen or Port Askaig doesn't really make a lot of difference when you travel by car as the distance between the two is 19 miles, which is around 40 minutes. For foot passengers or cyclists it can make a difference depending on where you have booked your accommodation or what your further travel plans are. Under normal conditions there are as many ferries to Port Ellen as there are to Port Askaig. Sailing from Kennacraig to Port Ellen takes about 10 to 20 minutes longer. Visit the Islay Ferry Guide for more info.
Can I visit Islay by bike as well?
Yes of course, the island is great for cycling and the distances between the villages are relatively short. Read more on our cycling page and check the distances further down in this article.
When do I need to book the ferry?
I should say as early as possible if you are travelling by car or motorhome. The ferry can be busy at times and fully booked. Also make sure to read our page with tips on how to check if the ferry is sailing or cancelled. You'll find some very valuable information here. Please note that foot passengers don't need to book in advance.
Book Islay Accommodation
Islay has many fantastic accommodations varying from luxury hotels, lovely bed and breakfasts, stunning self catering cottages, beautiful guest houses, campsites, pods, a youth hostel and caravans. There is something for everyone. When you're looking for accommodation you can go directly to the Bed and Breakfasts, Self Catering accommodations or the Hotels and Hostels pages on Islay Info.
How do I book Accommodation on Islay?
When you have found a place where you'd like to stay you can contact the owners directly to make an enquiry or booking. Most accommodations don't accept pets, some however do. Best to check that in advance. It's also common practice that you are asked to make a deposit to secure your booking, you do that at the time of booking. Usually the remainder of the money needs to be paid either a few weeks before you arrive, or when you leave. A travel insurance might come in handy. How you like to book is of course your own decision. From experience I know that booking through AirBnB or Booking.com is roughly 30 to 60 percent more expensive than booking direct with the owner through their website. Please read our Islay Accommodation Save Money article.
Plan your time on Islay, or not?
I know people who come to Islay and have their entire week planned with activities, distillery visits etc. From early morning till late in the evening every hour is booked with the precision of a military operation. Others come to the island and scratch their head when they come off the ferry wondering where they will go next and where to sleep. Whether you like to plan your time on Islay or not is up to you but from experience I should say to build in some flexibility and spare time. Holiday is also a time to unwind and where else can you do that better than on Islay? You don't want to be inside a distillery on a glorious morning and out walking on the beach in the pouring rain so you'll better try to be flexible. Of course there is nothing to say against booking a few activities but reserve some time for spontaneous things. Take it easy, unwind and enjoy "Islay Time".
Read a book, get a map, browse our sites
Our Islay Bookshop is a useful resource for books and maps which will help you to plan your time on the island.
The Tourist Information Office at the square in Bowmore, opposite the leisure centre, has a lot of information on Islay too and they also have a good selection of books, maps etc.
What can I do on Islay?
The list of things to do on Islay is long. Most folk will include a visit to a Whisky Distillery, a visit to one of the many pretty Islay villages or have a walk on a beautiful Islay beach. For more tips, sights and ideas visit Islay Info
Do I need to book a distillery tour in advance?
A lot of folk come to Islay to visit the Islay distilleries and to join a regular or special tour. To avoid disappointment it's best to book your distillery tour in advance. For tour times and opening hours you will need to contact the individual distilleries.
Shopping, Eating Out, Medical, Banks Etc.
Where can I do my shopping?
Most villages on the island, Portnahaven, Port Charlotte, Port Askaig and Bridgend have a Village Store annex Post Office. However, the best equipped supermarkets on the island are the Co-Op in Bowmore and the Co-Op convenience store in Port Ellen.
You can find a good number of restaurants and cafe's on Islay where you can have a good lunch, coffees or teas with home baking or a great dinner. For more info visit the eating out on Islay page on islay Info.
Petrol Stations
Petrol stations are available in Port Askaig, next to the hotel. In Jamieson Street in Bowmore, at the village stores in Port Charlotte and Bridgend and one in Port Ellen next to the White Hart hotel.
Medical Services
Islay has a hospital and three surgeries, in Bowmore, Port Charlotte and Port Ellen. If you have a medical situation when visiting the island please visit this page for more information.
Banks
There are two banks on Islay, both in Bowmore. The RBS opposite the co-op and the Bank of Scotland in Shore Street. Both banks have an ATM.
How about mobile phones and internet?
You will find that most places on Islay have mobile phone reception although there are a few notorious "black spots". The worst one is at Port Askaig which can be annoying when you're coming off the ferry and want to call someone for transportation or otherwise. There is better mobile phone reception earlier in the Sound of Islay. Other black spots are parts of the west coast and the more remote areas. Mobile data is a different story. Depending on your network you might have 3G or 4g in most villages. I know EE and Three are quite good, the others seem to score less. However, don't expect great speeds. Often you're better off connecting to WiFi in your accommodation or elsewhere. Some restaurants, cafe's and distilleries offer WiFi.
Transportation on the island
Some folk ask me about the distances on the island. Below are a few distances and travel times between villages on Islay based on car travel:
Port Askaig – Bridgend: 8 Miles or 13 km. Travel time 15 minutes.
Bridgend – Bowmore: 3 miles or 5 km. Travel time 10 minutes.
Bridgend – Port Charlotte: 8 miles or 13 km. Travel time 15 minutes.
Port Charlotte – Portnahaven: 7 miles or 12 km. Travel time 20 minutes. (single track road)
Bowmore to Port Ellen: 10 miles or 16km. Travel time 20 minutes.
We wish you a fabulous time on Islay. Have a look at our Islay Prints page for some stunning island views which will certainly get you in holiday mood!