Islay Beaches are an important asset of the island and they make up a large part of the positive visitor experience. Together of course with everything else Islay has to offer such as the Islay whisky distilleries, wildlife, interesting history and the friendly locals. Without the beaches Islay would be a completely different place. And it's probably because of the beautiful Islay beaches that the island is referred to as the Queen of the Hebrides.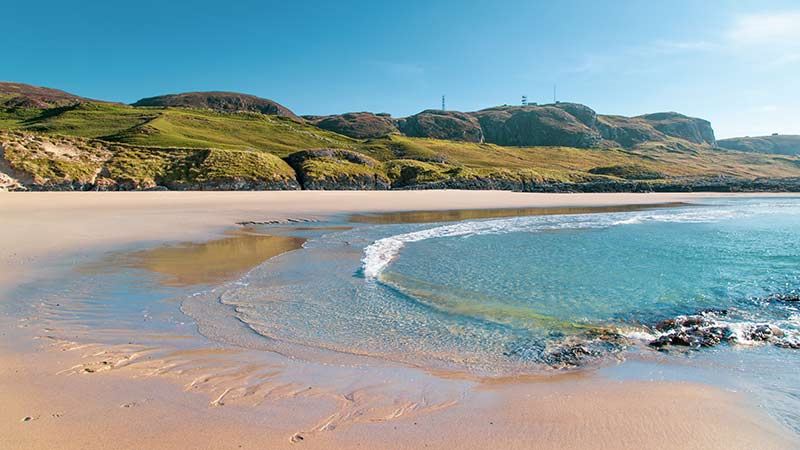 I've been to most Scottish Islands and haven't come across an island with such a varied concentration of beaches and bays. And although Luskentyre beach on Harris is one of the nicest beaches in Scotland, the beaches on Islay are very worthy competitors. During my time on Islay we've visited almost every beach on the island. Most of them more than once and lots of them dozens of times or maybe more.
If it wasn't for the many bays and beaches there wouldn't have been so many whisky distilleries either. In the early days, when there were no roads, whisky and other supplies where shipped by boat to the Scottish Mainland, mainly by the Clyde puffers. They needed easy and sheltered access to the island to moor the boats and Islay was perfectly suited for that.
Islay Beaches
With so many Islay Beaches, which one should you pick to visit? The choice can be difficult. There are a few things to remember, however, when you visit a beach on Islay. If you're intention is to go swimming you want to stay away from the west-coast beaches. My neighbour on Islay always told me that "West-coast beaches are drowning beaches". That's some good advice. The sea on Islay's west coast can be very treacherous and has very dangerous currents. The beaches at Loch Indaal and the village beaches are safer options for swimming. And if you're in for a long(er) brisk beach walk you have quite a few other options.
Below I have tried to categorise the many beaches on Islay, to give you an idea of what to expect. Further down is a map which displays all the Islay Beaches. By clicking on the icons followed by clicking on "more details" you're taken to a new page with comprehensive beach info, insider tips and photos.
Islay's West Coast Beaches
Kilchoman Beach at Machir Bay is probably one of the best beaches on Islay. It is a beautiful stretch of white sandy beach backed by high dunes on Islay's Atlantic Coast. There is ample parking, although you are usually (almost) on your own. It's a 25 minute car drive from Bowmore. This beach is perfect to enjoy the beautiful Islay sunsets but it can be rather unsheltered. The same applies for Saligo Bay. This beach is smaller, it has a few more sheltered spots behind the rocks and it's is also a 25 minute car drive from Bowmore. Other west coast beaches are Lossit Bay, which is somewhat difficult to access. North from Lossit Bay, a few miles up the west road, is Kilchiaran Bay which has a historic significance. On the south-western tip of Islay, west from Portnahaven, is a very pretty beach called Currie Sands. It's sheltered, has beautiful sand, is backed by dunes but rather small.
West Coast Beaches: Kilchoman Beach – Saligo Bay – Lossit Bay – Kilchiaran Bay – Currie Sands
Islay's North Coast Beaches
Some of the most beautiful beaches on Islay can be found on the North Coast. These are typical beaches for long(er) walks, to observe wildlife, take in the magnificent scenery and to enjoy solitude if that's your thing. Sanaigmore Bay, in the north-west, is a stunning beach. It has a second beach nearby and plenty of options for walks. It's also great for collecting seaweed. Further north is Ardnave Point, a paradise for walkers, bird-watchers and beach lovers. Opposite Ardnave Point, on the east side of Loch Gruinart, is Killinallan Point. Miles of beautiful beach, stunning views over the turquoise waters of Loch Gruinart and great for long walks.
North Coast Beaches: Sanaigmore Bay – Ardnave Point – Killinallan Point
Loch Indaal Beaches
The sheltered beaches at Loch Indaal are perfect for swimming, sunbathing and exploring. Some are large enough for a longer walk such as Uiskentuie Strand at the north end of Loch Indaal, and Blackrock Beach, further east towards Bridgend. The other beaches are smaller, and better suited for other activities. For instance the Port Charlotte beach and pier are ideal for sunbathing, swimming and fishing. Same goes for the beach at Port Ban, between Port Charlotte and Bruichladdich, and the Bowmore Beach, in the heart of the village, between the Pier and Bowmore Distillery. There is one less sheltered beach and that's Islay's longest beach, the Big Strand Beach, at Laggan Bay. It's five miles long and can be found west from Islay Airport and the Machrie Hotel and Golf Links.
Loch Indaal Beaches: Uiskentuie Strand – Blackrock Beach – Port Charlotte beach – Port Ban – Bowmore Beach – the Big Strand
Islay's Village Beaches
Some of Islay's villages are blessed with a nice beach. These are typically the smaller beaches, used by the locals, and not so much suited for longer walks. But it's often here that you can enjoy village life and have a chat with the locals. The Port Ellen Beaches are very nice, and there you'll find two nice beached. In the heart of the village is Leodamais Bay, opposite the co-op. And opposite the filling station is the second beach, called White Hart Beach. Portnahaven has a small but nice beach and the great thing is that you can watch the seals on the rocks in the bay. The other villages with a beach are Bowmore and Port Charlotte, see the paragraph about Loch Indaal beaches above.
Village Beaches: Port Ellen Beaches – Portnahaven Beach – Bowmore Beach – Port Charlotte beach
Beaches on The Oa
Technically speaking Kilnaughton Beach might not be on The Oa but I'll mention it here anyway. Kilnaughton beach can be found close to the Carraig Fhada Lighthouse and it's a lovely beach for swimming, sunbathing and all the other stuff you do at the beach! On the other side of the Lighthouse are the Singing Sands, perfectly sheltered and a very pretty beach as well. The other two beaches on The Oa require some more walking. They are Port An Eas, a mile further south from The Singing Sands, and Lower Killeyan, on the western tip of The Oa, not far from the American Monument.
Beaches The Oa: Kilnaughton beach – Singing Sands – Port An Eas – Lower Killeyan
Beaches on the East Coast
There are two beaches on the east coast. They can be found around 7 to 8 miles north from Port Ellen. Although it's quite a distance they are both very much worth visiting. The one farthest away is Ardtalla Beach, a perfect white sandy beach backed by lush vegetation. It has shallow waters and is ideal for rock-pooling, exploring, swimming and sunbathing. It's probably one of the finest beaches on Islay. Half a mile before Ardtalla Beach is Claggain Bay. This beach has a sandy part and a shingle part as well. It's usually very quiet here and great for kids to play on the beach with the many beautiful pebbles lying around.
East Coast Beaches: Ardtalla Beach – Claggain Bay
Beach Cleaning on Islay
If you ever wonder why the beaches on Islay are usually so very clean keep on reading. The Islay Development Initiative have a program called Beach Watch. They collect beach litter from many Islay beaches and have done so since 2006. But you can do something yourself as well. Quite a few folk I know take litter from the beach during their walk and dispose of it at the nearest dumpster. That's another way to help keep the beaches in a pristine state.
Islay Beaches Map
As mentioned above, on the Islay Beaches Map below you can see all the places on Islay that have a beach. If you click on the green icon a pop-up window appears. It has a photo of the beach and a link to the beach page when you click on "More Details".
Have fun exploring Islay's stunning beaches. If you have any suggestions, or when things aren't clear, please get in touch. Thank you!
Islay Beach Prints
Below are a few samples of our Islay Beach photos which can be printed or purchased as digital file for self-print. More photos are available by clicking here
Islay Beaches Summary
Kilchoman Beach – Saligo Bay – Lossit Bay – Kilchiaran Bay – Currie Sands – Sanaigmore Bay – Ardnave Point – Killinallan Point – Uiskentuie Strand – Blackrock Beach – Port Charlotte beach – Port Ban – Bowmore Beach – the Big Strand – Port Ellen Beaches – Portnahaven Beach – Kilnaughton beach – Singing Sands – Port An Eas – Lower Killeyan – Ardtalla Beach – Claggain Bay